Agnes zu Salm-Salm, and other dubious foreigners in Mexico
I don't know if it's still there, but I once read in a British travel guide the amazing information that there was a painting purported to show "the daughter of Maximilian" pleading with Benito Juarez for her father's life hanging in the Puebla Ayuntamiento. Roberto Mujicar found a black and white photo of the painting on page 3 of a PDF file of a an essay by Esther Acevado on this painting: Entre la ficcíon y la historia: la denegracíon del perdon de Maximiliano . At any rate, the British travel guide was wrong. Maximilian had no daughters. He had an illegitimate son by "la bonita India" who followed in dear old dad's footsteps (i.e., he was another romantic fool... Junior's was a German spy in France during the First World War -- though how a indigenous Mexican was going to pass himself off as a Frenchman has never being quite clear to me -- and ending up before a firing squad). Max and Carlotta "adopted" Augustin Irtubide's grandson to present a "Mexican" heir to the throne -- hoping, in their deluded way, to legitimize their rule in the eyes of the Mexicans. The problem was they'd bought the kid from an aunt, who didn't bother to tell his mother, an American citizen. As was Washington D.C. born Augustín de Irtubide y Green, the new "crown prince"(As an adult, Irtubide y Green served in the Mexican Army, had a falling out with Porfirio Diaz and returned to his native city to become a professor of French and Spanish literature at Georgetown University). Mom complained (and who can blame her) to the U.S. State Department -- and, more importantly, to any reporter who would listen. And they did. "Euro-trash Kidnap American Boy" is too good a story to pass up. The British press picked up the story (though they couldn't make him English, perfidious Austrians in the pay of the French kidnapping good Anglo-Saxons had resonance too): outraged mothers picketed the Mother of all Mothers, Queen Victoria ... who -- fond as she might be of her "reality-challenged" niece Carlotta -- was a political realist. While Britain continued to recognize the Empire, its support was nominal at best. No... while the woman in Manual Ocaranza's 1873 "historical painting" is indeed a European princess, she is no boring Hapsburg blow-by. Born in either Vermont or Baltimore (she was coy about her past -- some biographers give the year of her birth as 1842, others as 1844, but I'd guess 1832 might be a more realistic guess) Elizabeth Agnes Wynona Leclerq Joy was a circus trick horse rider and high-wire artist, performed on the Havana stage under the name Agnes Leclerq, and in 1861 parlayed a distant relationship (or alleged relationship) to Abraham Lincoln into a new career as a Washington debutante. In Washington, where she seems to have been a fixture at White House parties (whether invited or just showing up isn't clear), she somehow met -- and in 1862 married -- a colonel in a German-speaking Union regiment, Felix zu Salm-Salm.
Make that Prinz Felix zu Salm-Salm. Prinz Felix, born in 1828, was a scapegrace younger son of a minor German ruler. Trained, like a good aristocrat should be for a military career, he was drummed out of the Austrian Army (supposedly for gambling debts), fled to the United States and -- needing a job -- ended up as a volunteer colonel in a New York City unit recruited among German speaking immigrants. Prinz Felix was an exemplary Union officer (eventually being promoted to Brevet Brigidier-General). Now Prinzessin Alice, the former circus performer accompanied her husband, nearly drove General Grant to drink with her continuous demands for supplies and her imperious ways, but bravely and effectively organized and commanded a battlefield nursing unit. The end of hostilities found the couple bored with Felix's duties overseeing occupation forces in Georgia. Looking around for something to do, they headed for Mexico. Arriving in February 1866, just as the French occupation forces were preparing to "cut and run" was not a good career move. Boneheaded Max refusing to abdicate, sent his wife back to Europe to lobby Napoleon III and Pope Pius IX for assistance (Carlotta, as everyone remembers, went completely bonkers in the Vatican, forcing the Pope to spend a restless night telegraphing her family in Brussels who took her back to Belgium where they finally realized that there was -- and still is -- no treatment for tertiary syphillis. She stayed locked up in a family chateau until her death 60 years later). Max, also showing signs of syphillitic insanity on top of his fine aristocratic disdain for reality, deluded himself into thinking that he could retain his "throne". Abdication, he concluded would dishonor the Hapsburg family, and -- of course -- he was serving the interests of Mexico (who did he think wanted him out?).
And Max was almost "normal" in what was left of the Imperial court -- eventually reduced to basically the chamberlain and foreign minister (a renegade Jesuit turned Lutheran minister who had been defrocked and run out of Texas), a misplaced doctor from Vienna, and a few younger sons of Austrian and German aristocrats, professional soldiers like our hero Felix, who found himself with the imposing title of "Imperial Aide-de-Camp and Head of Household". Agnes... who seemed to be up for almost anything ... hung around as "lady-in-waiting" to Carlotta, but for reasons never really made clear, was back in the United States when the Empire (basically, Max, the Imperial court and a few Mexican troops) surrendered at Queretero in May 1867. The Prinzessen came into her own. She steamed back to Veracruz, made it to Mexico City to lobby European consulates for funds to bribe Mexican jailers into freeing the Emperor (and, oh yeah -- Felix too) and pestering government officals for a meeting with President Juárez for some face time. She never got a peso from the consulates, but she did finally get her meeting. The importance of the Manuel Ocaranza painting -- such as it is -- is not a meeting between a Princess and the "Indian" President. It's a genre painting about stern Republican values overcoming aristocratic privilige. Alice, falling back on her Havana stage days, put on a good show, going down on her knees to beg the President to spare poor Maximilian in the name of every King and Queen in Europe. In the painting, Benito Juárez is sadly telling Alice that "I'm sorry Madame to see you on your knees before me; but even if all the queens and kings of Europe were in your place, I still wouldn't be able to save his life. I'm not the one who takes it, it's the people that rule his life and mine." (Ocaranza was a major artist in late 19th century Mexico. His work resembles French academic painting of the same era, but mostly forgotten today. The only link I could find was this sentimental sketch of a baby from 1875, listed in a German auction site .)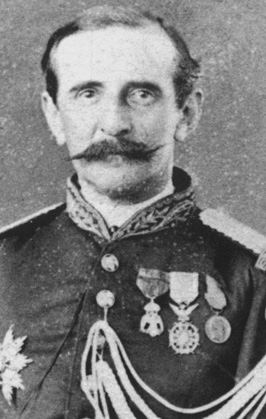 Happily for us -- though not for poor, deluded Maximilian -- Juárez (who was a shrewd country lawyer at heart) found a loophole to save Felix from the firing squad. He survived to write My Diary in Mexico in 1867, including the Last Days of the Emperor Maximilian, with Leaves from the Diary of the Princess Salm Salm (London, 1868), to join the Prussian Army Medical Corps and to get his head blown off by a cannonball at the start of the Franco-Prussian War. As one of Lincoln's less known generals, he earned an entry in the "Virtual Americans Biography" . Agnes also served on the Prussian side, again as a combat nurse, wrote a semi best-selling "tell some" (in decorous Victorian language, and no more untrue than most celebrity biographies) about the American Civil War and the Mexican adventure, Ten Years of My Life (London, 1876) . She later married a British diplomat, but maintained her German title, using her hard-won aristocratic respectabilty to raise funds for the American Red Cross and German hospitals (and to be admitted as an honorary member of the Daughters of the American Revolution). She died -- like a proper elderly German aristocratic lady was supposed to do -- at the spa in Baden, in December 1912. Most of what has been written about her is in German, or scattered through other documents on 19th century American women. An admiring short biography, "Princess Salm-Salm, an American Princess" (originally part of an anonomous "A Victorian Lady's Trip to Europe: Summer 1914") is reprinted in a New Zealand based geneological researcher's website.

All posts were moved (11/2006) to